THROUGH MUSIC AND ART, THE CARAVAN PROVIDES THE PEOPLE OF THE SAHARA AND THE SAHEL A PLATFORM TO MEET AND EXCHANGE IDEAS, IN ORDER TO PROMOTE AND PRESERVE THEIR CULTURAL HERITAGE
The 2015 edition of the Cultural Caravan for Peace will take place in two stages: the first will start in January and February in Africa (Morocco and Mali), the second stage will take place in June and July 2015 in Europe (Netherlands, Italy and France)
INITIATORS
Building on the success of the pilot phase of the Cultural Caravan for Peace project 2014, the three festivals (Taragalte Festival from Morocco, Festival in the Desert and Festival sur le Niger in Mali) have decided to extend their partnership by creating a working network called " Cultural Caravan Network". This new network will better structure their cooperation and ensure a total success to the second edition of the Cultural Caravan for Peace in 2015.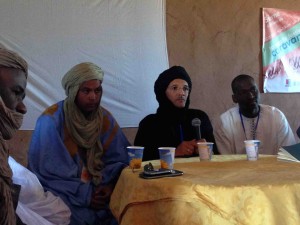 VISION
Our vision is to turn this work network into an unifying instrument that will promote cultural diversity, peace, tolerance and social cohesion among the peoples of the Sahel and Sahara.
Emphasis will now be placed on the sharing of experiences, artistic exchange, advocacy for cultural diversity, mutual communication and marketing of partner festivals to have a greater impact.
With this project, festivals want to learn from the historicalrole of caravans during recent centuries, that was not only economic but also social and cultural.
The directors: "These caravans meant that different cultures had contact with each other and could connect. Exchanges happened through families, music, poetry, art, and lifestyle. These activities brought people closer together, creating awareness about other cultures, leading to innovative ways of working together and resolving difficult challenges…it is exactly this meaning of the caravan we wish to bring to life again"